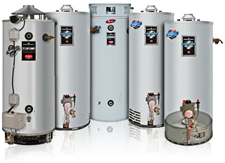 You depend on the water heater in your home for many things, from cooking to cleaning to bathing. Because this is such an important part of your home, you need an experienced professional to call for all of your water heater needs.
In the Havertown area, the company to call is John Luke Plumbing & Heating. We have twenty plus years of experience and offer honest and professional service to Havertown, Narberth, and the surrounding areas. We pride ourselves on providing the highest quality service to all of our customers, so whether you need a new water heater installed or your existing system repaired, we can get the job done right for you.
John Luke Plumbing & Heating in Havertown services Wayne, Bryn Mawr, Narbeth, Newtown Square and the surrounding areas in Delaware County and the Main Line.
Choosing the Best Water Heater for Your Havertown Home
When you need a new water heater, you need to consider how much hot water your family uses at peak consumption times. Figuring this out can be a little tricky, which is why it's good to have the help of an experienced professional. Our technicians can accurately estimate your family's peak water usage to make sure that the water heater we install for you will be able to accommodate that type of volume.
You might think that getting the biggest water heater available is the best option, but that's often not the case. In fact, a water heater that's larger than what you need costs extra to install and unnecessarily increases your monthly energy bills. But when we properly size your water heater for you, you can be sure you're paying only as much as is necessary to keep the hot water in your home flowing when you need it.
Water Heater Installation Services in Havertown and Narberth
Once you know how large you need your new water heater to be, you can move on to selecting the type of fuel you want it to use. This is largely dictated by what's available in your area, but you may have some options and our experts will help you sort through them. You'll also have to decide between tank and tankless water heaters. This is something we can guide you through as well.
Repair and Maintenance Services for Your Water Heater in Havertown
Even when you've just had a brand new water heater installed in your home, it's not too early to sign up for professional water heater maintenance service from one of our licensed professionals. All types of water heaters can lose energy efficiency over time, and this type of annual attention helps to eliminate that loss. Regular maintenance is also important to keep your water heater from breaking down unexpectedly.
Of course, while we are often able to catch problems early during a maintenance visit, there is always a chance that you will need emergency water heater repairs at some point. When the time comes, John Luke Plumbing & Heating can take care of that as well. We have someone on call 24/7 to make sure we can always respond to your call for assistance. So no matter what type of Havertown water heater services you need be sure to give us a call today.