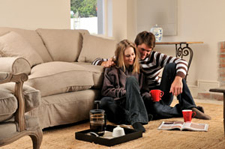 On a cold day, having a nice warm home is a great comfort and having a good heating system in your home is what makes that possible. You have to have a heating system that is large enough to heat your home properly but doesn't cost too much to operate all winter long. With utility costs rising, finding that perfect balance is getting more difficult. And because there are so many heating systems on the market, you need professional advice to make sure you get the right one for your home.
For professional advice on how best to heat your Havertown home, call the professionals at John Luke Plumbing & Heating. Our expert technicians are always available to advise you on selecting the proper heating system for your home.
John Luke Plumbing & Heating in Havertown services Wayne, Bryn Mawr, Narbeth, Newtown Square and the surrounding areas in Delaware County and the Main Line.
Choosing the Right Heating System
To help you choose the right heating system for your Havertown home, you need the right contractor. We carry a great selection of home heating systems and our experts will help you determine which one is the best fit for your heating needs. There are so many heating options to choose from that you need someone you can trust to give you the correct advice and provide professional heating installation services.
The correct heating system is essential to keeping your family comfortable all winter long. You want a system that will heat all of the rooms in your home evenly and adequately. You also want heating that is energy efficient. John Luke Plumbing & Heating installs and services systems run by with propane, oil, and natural gas.
We will gladly size your system to ensure that it is appropriate for the space you need heated. John Luke Plumbing & Heating will discuss all of your options with you and provide you with expert answers you can trust.
Heating Installation Services in Havertown and Narberth
When you choose John Luke Plumbing & Heating to install your new heating system, you have chosen professionals that know how to get the job done right. This is not a job that you can just hire any handy man for and expect it to be completed properly and in a timely manner. Heating system installation needs to be done by a licensed contractor who is qualified to install the type of system you've chosen for your home, and all of our technicians are appropriately licensed and have extensive experience working on this type of project.
Heating Repair and Maintenance Services in Havertown
Once your heating system is in place, you want to make sure you schedule your annual maintenance to keep it in good working condition moving forward. During these visits, our experts will check your entire heating system to make sure it is clean, safe and operating properly. We are also available to complete both minor and major repairs whenever necessary.
With the trusted and qualified contractors at John Luke Plumbing & Heating on the job, you will be able to rest easy knowing that all work is being done right. We are available 24 hours a day, 7 days a week for emergency heating repairs and during regular business hours to answer your questions or set up a service appointment.