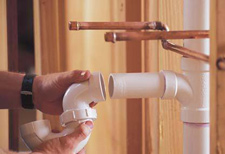 While remodeling any part of your home is a big job, it's an incredibly exciting project to undertake as well. Of course, since you put so much into a remodel, you want to be sure the end result is just what you had in mind. That's why the professionals from John Luke Plumbing & Heating take great care with all plumbing remodeling projects in the Havertown area.
We want the work we do to be exactly in line with the kind of look you're going for and provide the perfect functionality to suit your needs. To accomplish this, we'll work closely with you from the very beginning of the project to plan and execute a remodeling job that delivers exactly what you hoped for and more.
John Luke Plumbing & Heating in Havertown services Wayne, Bryn Mawr, Narbeth, Newtown Square and the surrounding areas in Delaware County and the Main Line.
Kitchen Plumbing Remodeling Services in Havertown
You spend a lot of time in your kitchen and you need it to be set up efficiently for you to get things done. Cooking can be a lot of fun, but it can also be very frustrating when you have no room to work and your fixtures and appliances are not conveniently placed. When you come to John Luke Plumbing & Heating for all of your kitchen plumbing remodeling needs, our experts will help you create the kitchen of your dreams.
We have a great selection of sinks, fixtures, faucets and garbage disposals for you to choose from and we'll help you plan out exactly where you want everything to be. Whether you're moving into a new home or just need to make a change in your existing one, don't hesitate to give us a call today.
Professional Havertown Plumbing Remodeling for Your Bathroom
Since your bathroom is probably the first place you go in the morning and the last place you head before bed, it's important that it's a comfortable and functional space for you. Our expert Havertown plumbers will guide you through the bathroom remodeling process from the very beginning. We'll help you pick out the right toilet, tub, shower, faucet and more to create just the combination of style and functionality you're after.
No matter what type of remodeling project you have in mind, John Luke Plumbing & Heating has the skills, products and experience to get the job done right the first time. We take great pride in making our customers happy and comfortable in their homes and we'd love to do the same for you. So whether you're ready to start work immediately or just want to explore your plumbing remodeling options, talk to one of our experts today.