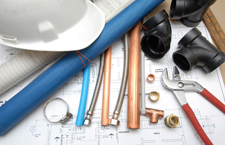 Commercial plumbing systems play a crucial role in your business operations, whether you are running a restaurant, shopping center, movie theater or office building. A commercial plumbing system requires special skills to install, replace, repair and maintain. That's why it is so important to choose a qualified professional who understands the types and subtypes of commercial systems and is aware of the specific challenges encountered in installing, replacing and servicing them.
If you are located in Havertown, Narberth, or the surrounding areas, John Luke Plumbing & Heating is the best choice for all of your commercial plumbing needs. We have extensive experience in Havertown commercial plumbing installation projects and in servicing these types of systems. With John Luke Plumbing & Heating as your commercial plumbing partner, you can get timely service, personal attention and value added services.
John Luke Plumbing & Heating in Havertown services Wayne, Bryn Mawr, Narbeth, Newtown Square and the surrounding areas in Delaware County and the Main Line.
Commercial Plumbing Service in Havertown and Narberth
Commercial plumbing systems have many demands placed on them every day, so it is crucial to hire a highly–trained professional who can keep everything flowing smoothly to care for yours. When you choose John Luke Plumbing & Heating for all of your commercial plumbing needs, you can expect proper installation, accurate troubleshooting and effective long term solutions.
Our technicians use the latest tools and technology to offer the best possible commercial plumbing service. We focus on delivering high quality services that are both practical and efficient, which in turn helps you enjoy optimum performance and great savings. The services offered by our qualified Havertown commercial plumbing professionals ensure that you can continue your business operations with minimal disruptions.
Because of our years of experience in the field, we understand that facility needs vary. That's why we take the time to understand your exact needs and provide solutions that meet them accurately and effectively.
We also provide emergency commercial plumbing services to businesses and commercial facilities across the region. We treat each plumbing emergency with urgency and provide high quality commercial plumbing repair services to address them as fast as possible. Our expert technicians identify and fix the root cause of the problem so you can have the peace of mind that comes from knowing the problem will not recur.
Commercial Plumbing Services Offered
Our Havertown commercial plumbing professionals have experience in offering a range of services, including sewer and water line installation, sump pump installation, faucets and fixtures installations and replacements, sewer line repairs and installation and maintenance of toilets, showers and valves. We also provide comprehensive preventative plumbing maintenance for all commercial systems, large and small.
John Luke Plumbing & Heating is the one stop solution for all your commercial plumbing needs. We provide professional, cost effective services to our customers throughout Havertown, Narberth, and the surrounding areas. Customer satisfaction is our main priority, and this is reflected all the way down the line to our expert technicians who are happy to help you with all of your commercial plumbing needs. Contact us today to learn more about the great services we provide.